FoxGarden
Regular price
$32.99 USD
Sale price
$25.99 USD
Unit price
per
Sale
Sold out
The grow light is a professional-grade floor-standing lighting solution that ensures optimal growth for your plants. Designed with a wide illumination range, this lamp is perfect for providing sufficient light coverage to a variety of plants. The Plant Growth Lamp is crafted using advanced technology and high-quality materials, guaranteeing its reliability and durability. It emits a specific spectrum of light that promotes photosynthesis and enhances plant growth, making it an essential tool for both professional gardeners and indoor plant enthusiasts.
Upgraded Design

This indoor grow light is equipped with a tall & stable tripod stand extendable from 15 inches to 63 inches, which provides a big illumination area for tall and large plants, and the gooseneck also makes it more flexible to use. You can set the grow light at any height and in any direction to get the desired illumination angle, it's ideal for all kinds of your plants at all growth stages.
Full Spectrum

Equipped with 48 high efficiency LEDs (12 Red + 4 Blue + 16 Warm White + 16 Cold White), this grow light emits full spectrum light from 380nm up to 800nm, which is professionally designed for indoor houseplants. Similar to the sunlight at noon, this plant light provides high luminous efficacy for more plants, at the same time, saves your electric bill.
Timer Function

This growing light has 3 cycle timing settings (4/8/12H) and will automatically turn on and off at the same time the next day, no need to unplug/re-plug. It will take good care of your plants while you are at work or on vacation, easy & convenient!
Brightness adjustable

Equipped with many new technology diodes, our grow light is very bright and efficient. It also has 6 levels of dimmable options - 10%, 20%, 40%, 60%, 80%, 100%, to meet each plant's lighting requirements at different stages, without worrying about burning your plant.
Easy to Install

Just within 1 minute! Screw up the tripod, gooseneck, and the plant light, adjust the height and angle, done! High-quality LED beads have a 50,000h lifespan. 12 months warranty plus 30 days satisfaction or return guarantee, 100% money back. Contact us first if any issues and we will make it OK.
View full details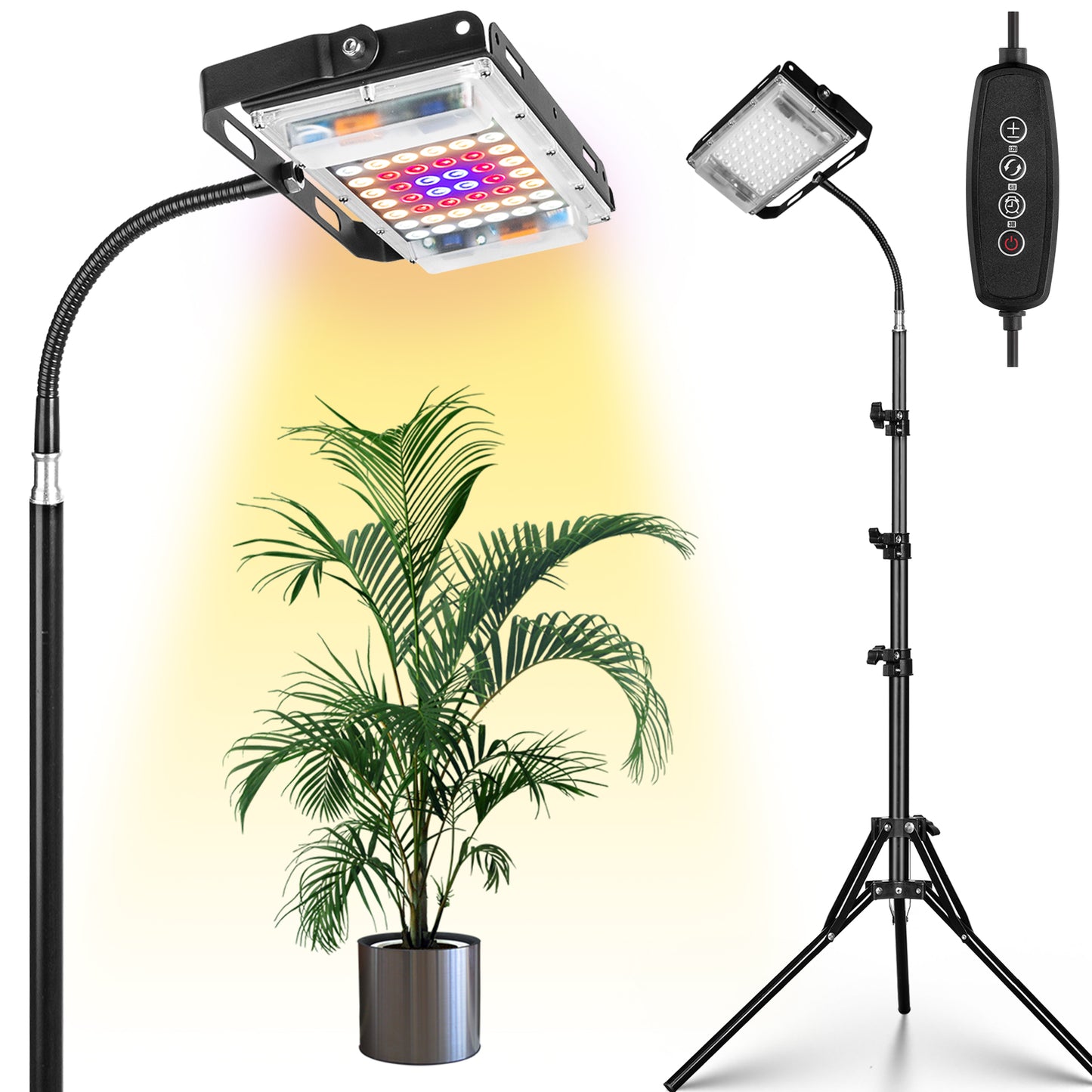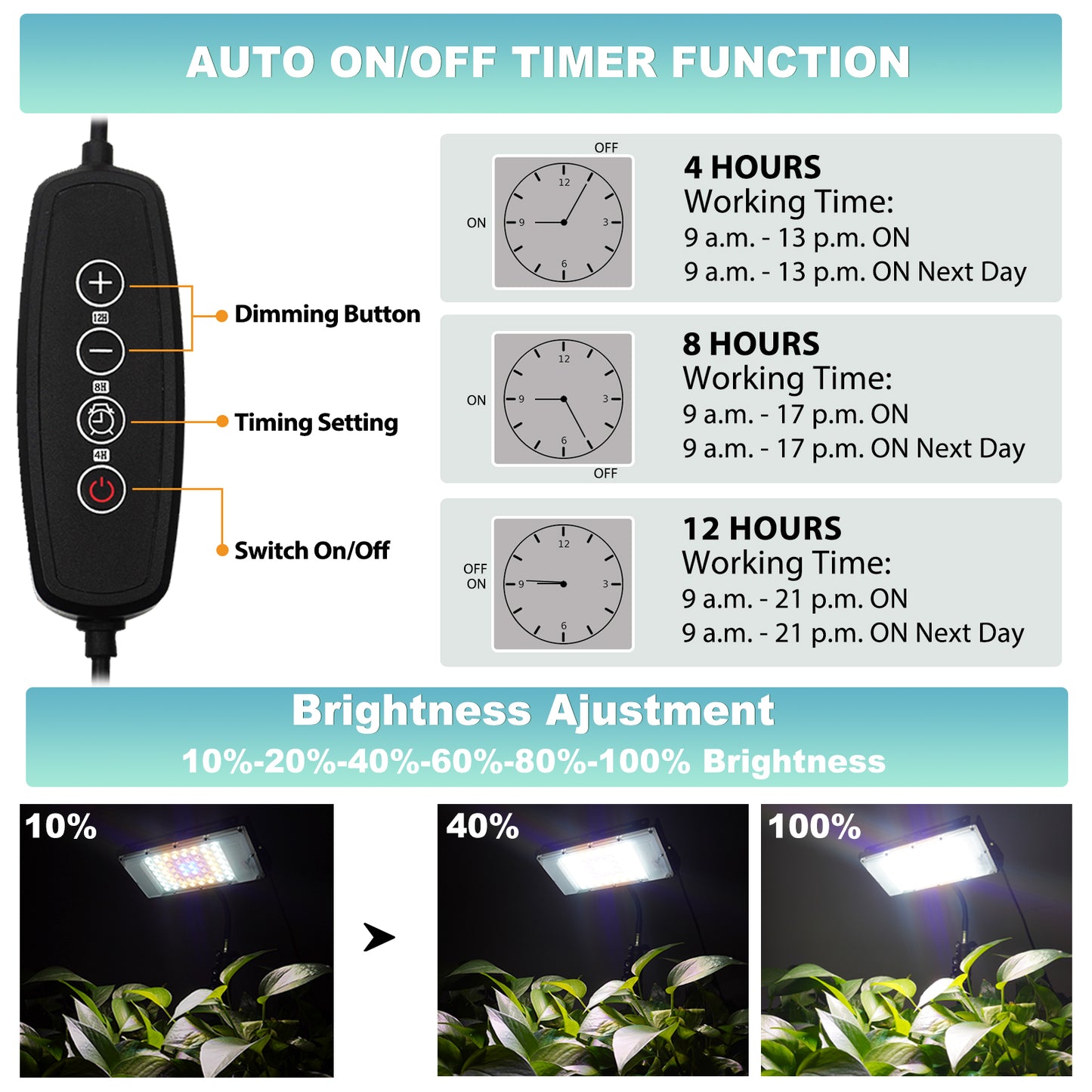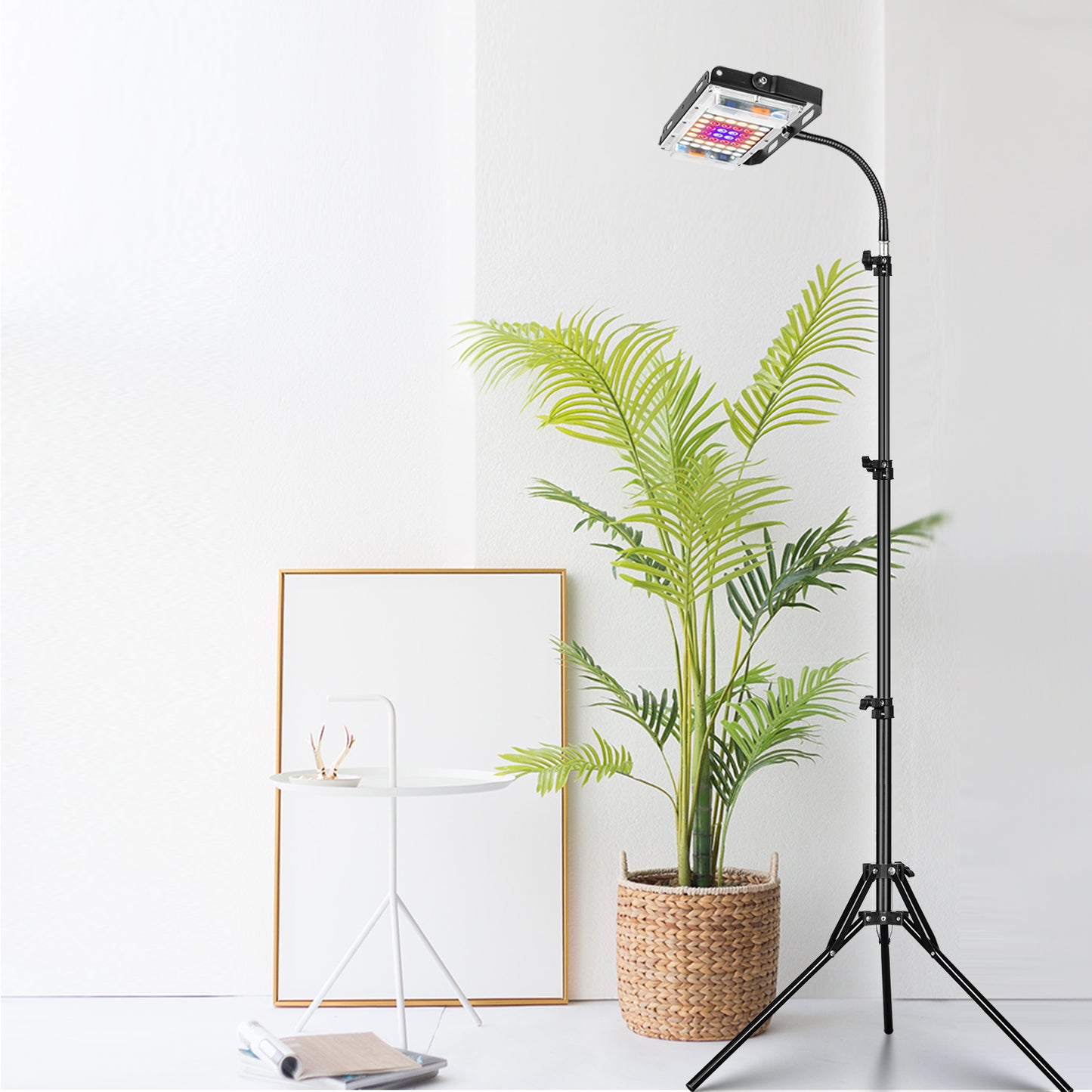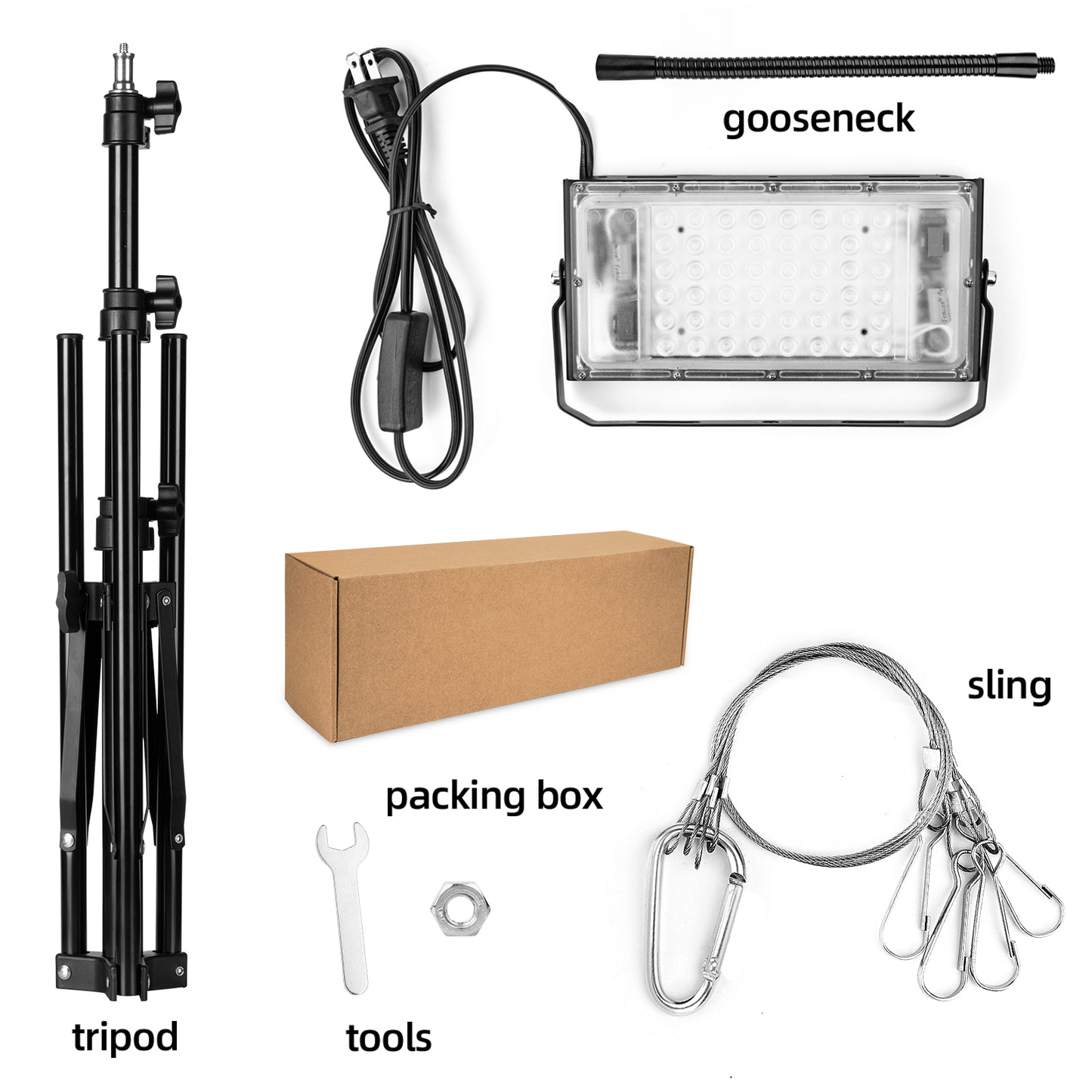 Product Features
Full Spectrum

This grow light can offer full spectrum from 380 up to 800nm and plant can absorb all lights it needs. Red+Blue+Warm white+Cold white light spectrum mimicking nature sunlight can complement shortage of sunlight when you care for houseplants.

Control Panel

6 dimming brightness: 10%-20%-40%-60%-80%-100%

3 timer setting options: allow up to 4, 8 and 12 hours according to plant needs

Switch On/ OFF: Easy to control

Stable Tripod Stand

The tripod height of this grow light is adjustable from 15 inches to 63 inches. It's easy to install and can be adjusted flexibly for wide coverage. It's an ideal plant light for your various indoor plants of different height.
Multiple Use
Floor Grow Light

This grow light is light weight and can be easily moved to anywhere needed, especially for tall and large plants.

Hanging Grow Light

With the tripod off, it can be used as a hanging grow light which is good for using in grow tents.

Zip Ties Mount

This grow light has 4 zip ties included in the package, which can be used to mount the light to anything you want, easy and fast!
Specification:
Input Voltage Range: 110V to 130V AC
Frequency Range: 50Hz to 60Hz
Input Power: 26W
Lumen: 2800 lm PF: >0.9
PPFD/1 Feet: 457μmol/m²/s
Beam Angle: 120
Color Temperature: 4000K
Max Height: 63 inches
Weight: 2.5 lbs