FoxGarden
Regular price
Sale price
$23.99 USD
Unit price
per
Sale
Sold out
The grow light is a professional-grade floor-standing lighting solution that ensures optimal growth for your plants. Designed with a wide illumination range, this lamp is perfect for providing sufficient light coverage to a variety of plants. The Plant Growth Lamp is crafted using advanced technology and high-quality materials, guaranteeing its reliability and durability. It emits a specific spectrum of light that promotes photosynthesis and enhances plant growth, making it an essential tool for both professional gardeners and indoor plant enthusiasts.
Upgraded Design

The plant grow light is carefully designed like a halo to help plants grow happier and lusher. It is perfect for various indoor plants, especially tall plants including banana leaf trees, monstera, and olive trees. With a stable tripod stand and 360° gooseneck, the grow lamp is more convenient for different plants to adjust to suitable positions and height, without wasting valuable space.
Full Spectrum

Our plant light emits light including all wavelengths, from blue to red and even ultraviolet, ensuring your plants receive the nutrients they need at every growth stage. No more worries about insufficient sunlight; let them thrive in a cozy indoor environment. With 72 efficient LEDs, it also provides high LUMER & PAR to give your plants the perfect amount of light from seedlings to growth and flowering stages.
Timer Function

This floor grow light also features a cycle timing function for 4H/8H/12H, allowing you to set it to turn on or off automatically at your desired time. Once set, the light will automatically turn on or off at the same time every day, ensuring your plants receive consistent and customized lighting for optimal growth. And you don't need to worry about turning it on/off when at work or on vacation!
Brightness adjustable

Using 72pcs advanced LEDs, this growth light equals a 30W incandescent lamp. It means saving more energy for you. Also, the standing grow light has 4 dimmable levels, you can choose the most suitable lighting modes for all kinds of plants in different stages. Whether you need a gentle glow for seedlings or a vibrant radiance for growth plants, our light offers 25%-50%-75%-100% brightness to suit your plants' varying growth stages.
Wide Applications

With the high-quality metal tripod stand, it is easy for you to adjust the height from 15" to 48" as you like. You can place it anywhere in your home and it only takes up a little space. Safe and Space-saving design, our lamp is perfect for putting in a living room, basement, or office. Also, we provide 24 months of quality service to bring you a wonderful shopping experience!
View full details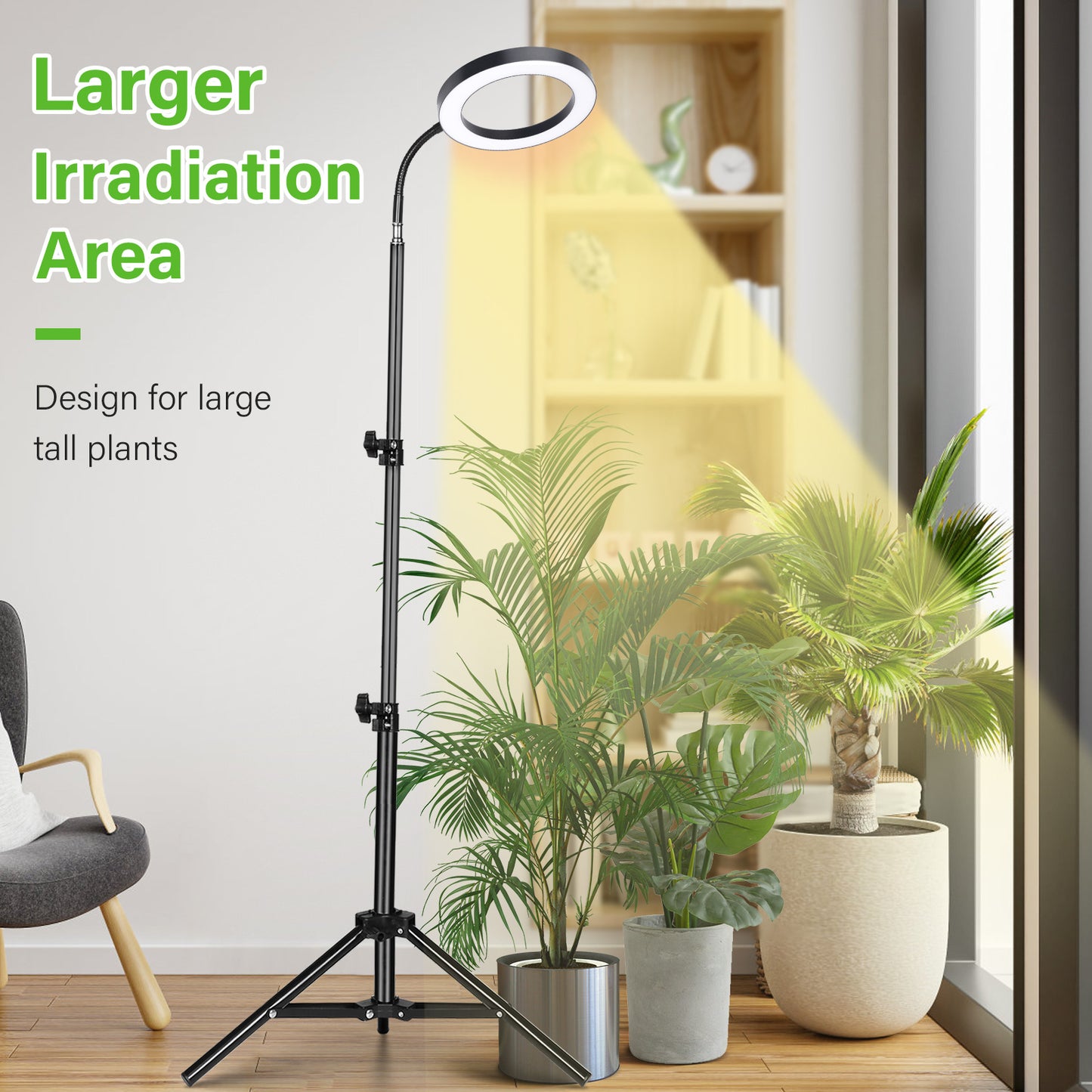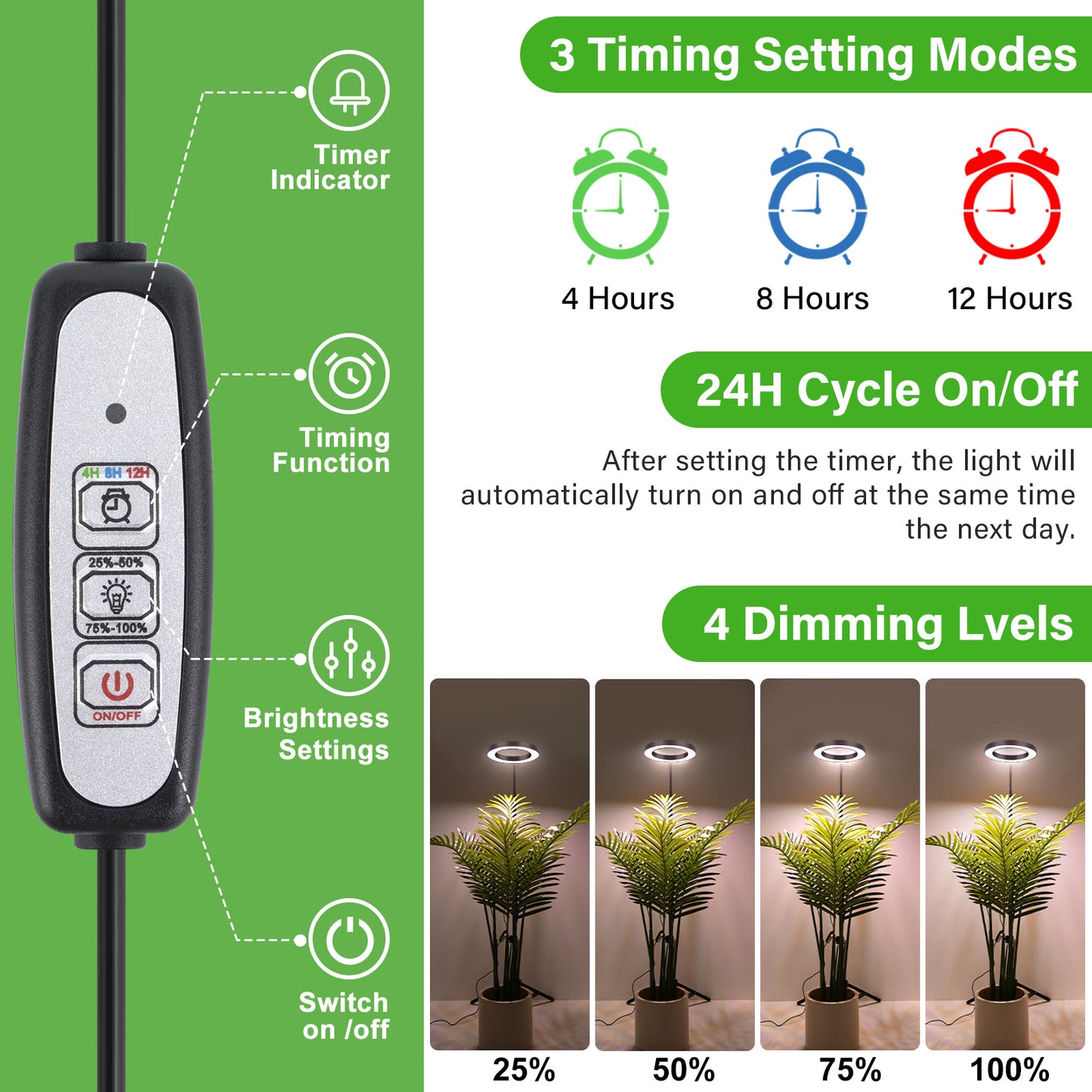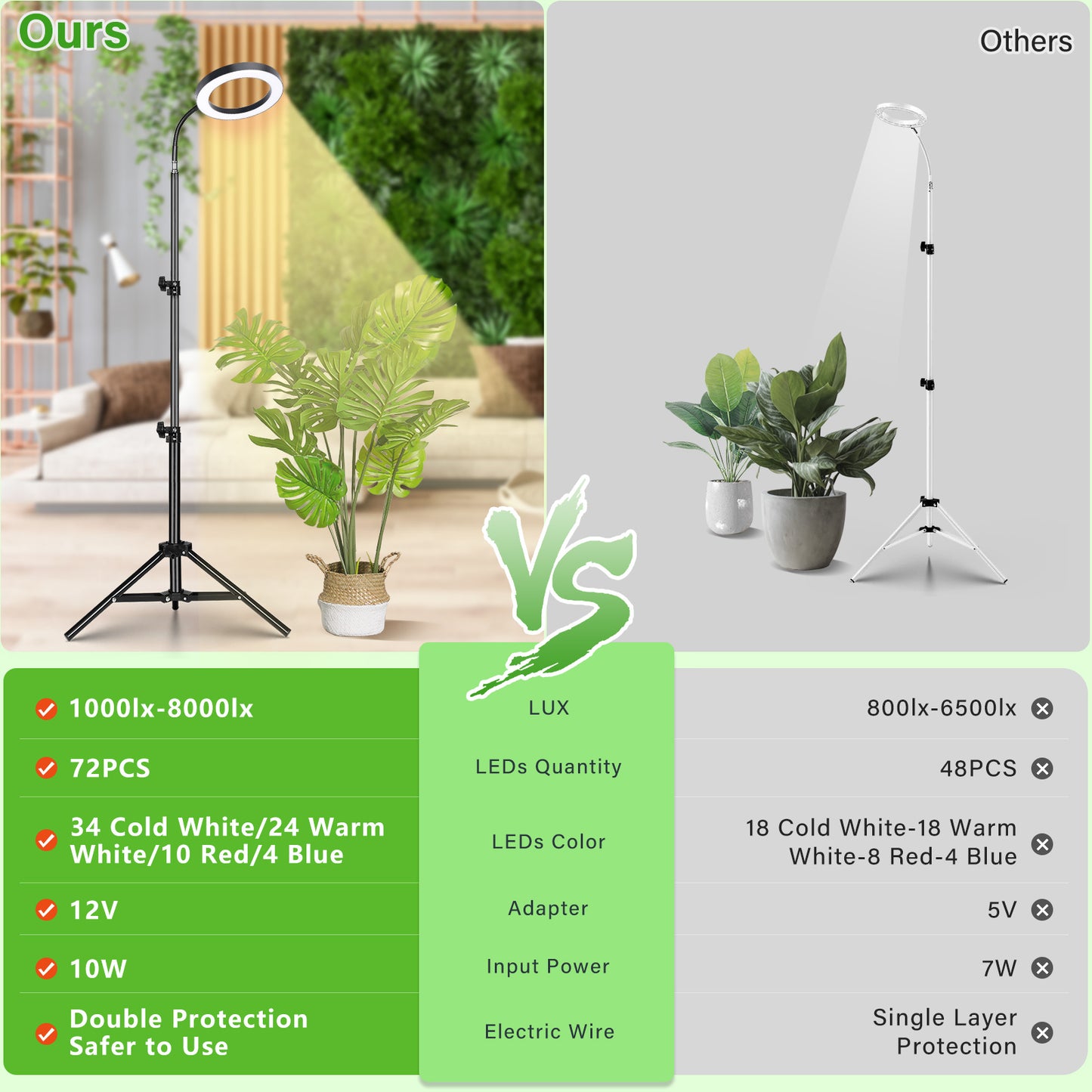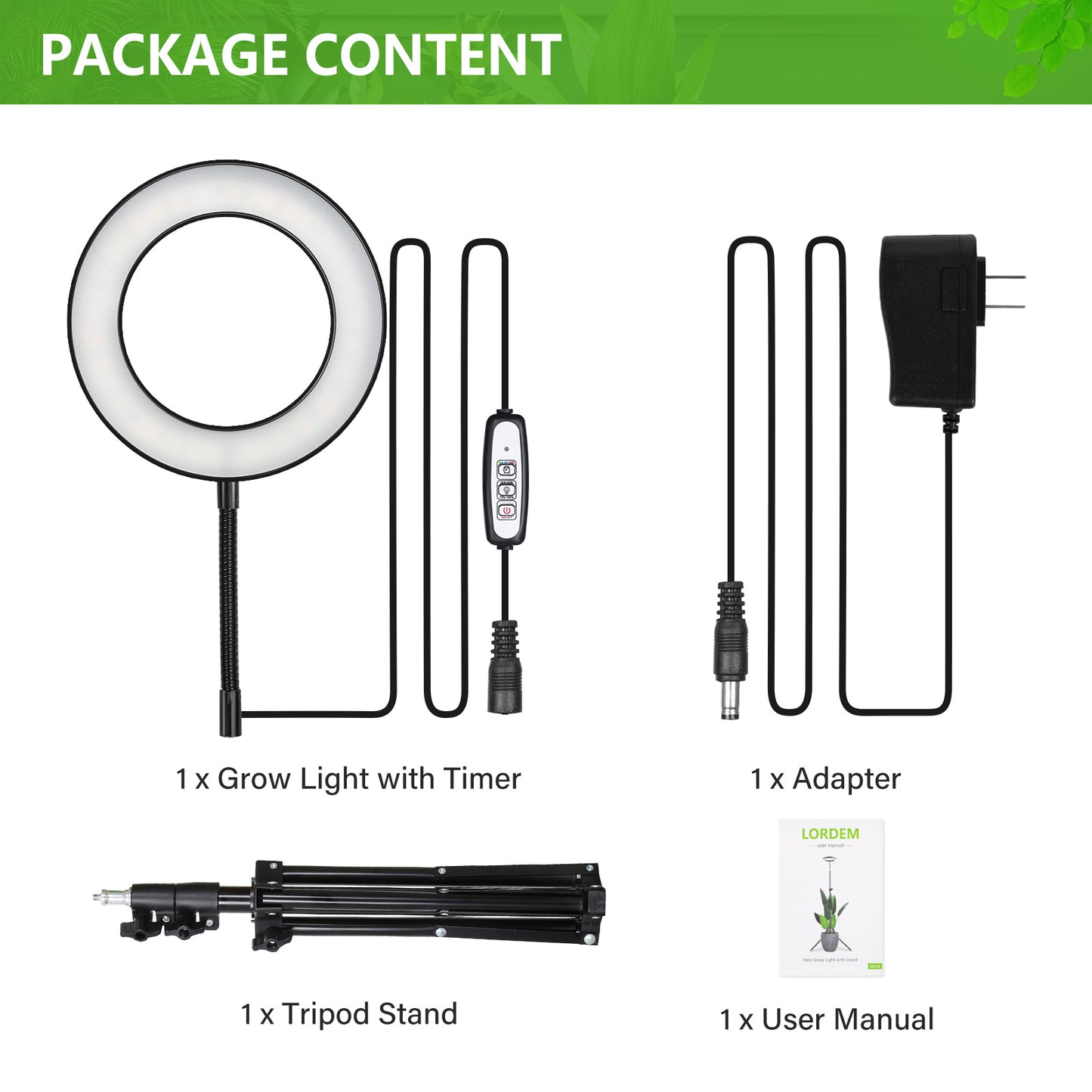 Product Features
24H Cycle Auto On/Off Timer

With timer options for 4H/8H/12H, this grow light allows you to effortlessly set a schedule that suits your plants' specific needs. Once set, the light will automatically turn on and off at the same time every day, maintaining a consistent lighting routine for your indoor beloved plants.

4 Dimmable Brightness

This grow light is equipped with 4 brightness settings (25%-50%-75%-100%), allowing you to adjust the lighting intensity to suit your plant's growth requirements. Whether you're growing herbs, flowers, or vegetables indoors, this dimmable grow light will provide the perfect lighting environment for your plants to thrive.

Full Spectrum Grow Light

Designed with a full spectrum of light wavelengths, this plant light mimics natural sunlight, providing your plants with the optimal conditions for photosynthesis. Let's give your plants the gift of natural sunlight, even when they're indoors!
72 High Efficient LEDs

The grow light is designed with 72pcs high-quality and scientific LEDs, which provide higher PAR output. It not only allows you to save on electricity costs, but also has a long lifespan.

Height Adjustable & 360° Gooseneck

With a range of 15" to 43", this tripod stand can be easily adjusted to accommodate the growth needs of your plants at different stages. Whether you have small herbs or larger foliage plants, this adjustable stand ensures that your plants receive the right amount of light at the right height. No more worrying about your plants stretching or not receiving enough light.

Larger Coverage Lighting

This professionally designed lighting system offers an extensive illumination area for your plants, allowing them to thrive like never before. Whether you are starting new seedlings or tending to mature plants, this lighting solution has excellent results.
Specification:
Input Voltage Range: 100V to 240V AC
Frequency Range: 50Hz to 60Hz
Input Power: 10W
Lux: 8000lx
Color Temperature: 4500K-6000K
Max Height: 48 inches
Lifetime: 30,000 Hours